Peet Bros. Factory Outlet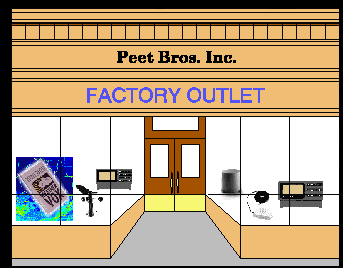 Welcome to the Peet Bros. Factory Outlet. Here's where you may find sensors, accessories, and even complete systems that we're able to offer at a bargain price. Some may be out of production, others may be slightly blemished (and priced accordingly), but all carry a new product warranty on performance and may be returned within 30 days for full credit (less shipping) if you're not pleased for any reason. Naturally, quantities are very limited.
Sorry, but we aren't able to send out an individual notice when an item you desire becomes available, nor can we accept a standing order to be held until the next time we offer an item you'd like. All items will be posted here in our Factory Outlet on a "first-come, first-served" basis, subject to prior sale.
Don't miss the good deals - bookmark this page.
Then check back often!
Great Values - Surperb Products
*REFURBISHED INVENTORY Limited Quantities

Note: Refurbished Instruments carry a full one-year Manufacturer's Warranty.
"Keep a weather eye on Peet Bros."

SORRY, THERE ARE NO OUTLET ITEMS
AVAILABLE AT THIS TIME.