"Keep a weather eye on Peet Bros."
Pocket Altimeters
Since 1975, Peet Bros. Company has been a leading distributor of precision pocket altimeters and barometers in the United States. Our company holds patents on the design of both mechanical and electronic altimeter/barometers. Peet Bros. wrote and published the first (and probably still the most authoritative) booklet on using these instruments for land navigation, "The Sportsman's Altimeter/Barometer".

Peet Bros. has also produced an entertaining and informative video on the subject, "An Introduction to Contour Line Navigation". We currently offer both mechanical and electronic Altimeters and Altimeter/Barometers for such diverse applications as land navigation, geology, forestry, air density calibration of other instruments, etc.

It is always interesting to know your altitude, but an altimeter is most valuable when used with a topographic map to help orient and guide you in unfamiliar regions or unmarked trails. It can do so even when your visibility is severely limited by darkness, fog, trees, heavy rain or snow. Since our altimeters interpret changes in air pressure as changes in altitude (as altitude increases, pressure decreases, and vice-versa), an altimeter/barometer can also function as a weather instrument for making local forecasts, even in remote areas not served by weather stations. For more information, please click on the model of interest from the list below.


MODEL 80 ALTIMETER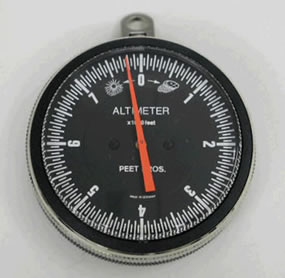 Made in Germany according to our exclusive design, the Model 80 provides exceptional performance at modest cost. It uses a rugged all-metal movement that is temperature-compensated and insensitive to humidity changes. In lesser instruments, temperature and humidity changes can cause serious errors because string is used to rotate the needle shaft. The Model 80 is an excellent choice when very good sensitivity is needed at an economical price.

Measures altitude from 0 to 8,000 ft.

Calibrated in 50-ft increments.

Accurate to within 100 feet over entire range.

Rain and Sun symbols to indicate weather trends.

Black dial with easy-to-read fluorescent red needle.

Size: 2 1/2 inches diameter x 7/8 inch thick.

Weight: 2 oz.
"Keep a weather eye on Peet Bros."
MODEL 88 ALTIMETER/BAROMETER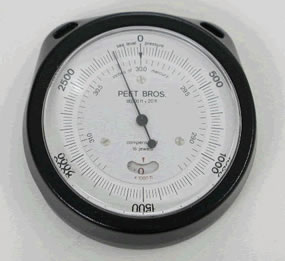 This handsomely-styled precision analog altimeter/barometer is made in Germany according to our exclusive design. Its 16-jewel, temperature compensated movement is calibrated to 18,000 feet in six revolutions of the indicator needle. A small counter dial keeps track of needle revolutions, making it easy to read any altitude to within 20 feet. The counter dial window is located on the lower half of the dial face to give an unobstructed view of the entire sea-level pressure scale. Unusually rugged for such a responsive instrument, the Model 88 combines exceptional performance, practicality and value for the serious outdoor person.
Measures altitude from 0 to 18,000 ft. in six revolutions.
Calibrated in 20-ft increments.
Accurate to within 40 feet over entire range.
Measures sea level pressure from 28.7 to 31.3 inches.
Barometric pressure calibrated in 0.05 inHg increments.
16 jewel shock-resistant temperature-compensated movement.
Housed in rugged metal case.
Size: 2 3/4 x 2 5/8 x 7/8 inches
Weight: 3.5 oz.
"Keep a weather eye on Peet Bros."
MODEL 44 ELECTRONIC
ALTIMETER / BAROMETER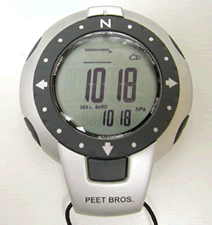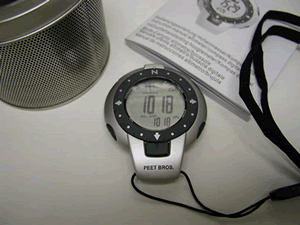 The ultimate in digital electronic pocket altimeter/barometer instruments, the Model 44 is made in Germany to our specifications. Its high-precision, extremely responsive air pressure transducer displays altitude and barometric pressure on an easy-to-read high-contrast liquid crystal display. An electronic thermometer and weather forecast symbols are incorporated into the design making the Model 44 a very versatile pocket altimeter and weather instrument. For determining pressure change trends or logging altitude excursion, there is an additional LCD barograph display. Minimum/maximum and cumulative values can be obtained easily. Lightweight and compact, the Model 44 is complete with lanyard for field portability.
· Measures –2296 ft. to 29520 ft. with graphical display of altitude changes.
· Electronic compass with bearing in degrees
· Barometer pressure 1hPa resolution with graphical display of changes.
· Weather forecast and temperature in Celsius and Fahrenheit
· Time, date, clock and alarm function
· Electro luminescent backlight
· Size: 3 1/8 x 2 ½ x ½ inches.
· Weight: 1.9 oz.